More than 1,000 youth and students trooped to Mendiola in yesterday's youth protest march against Gloria Macapagal-Arroyo's P1 billion murder fund for her all-out-war policy. "
May pera sa gera, wala sa eskwela!
Books not Bullets!"


After a 1-hour program in front of FEU Morayta (blockaded by dozens of police troops and a fire truck), we decided to re-route towards Legarda to assert our march to Malacanang.
Corner of delos Santos and Legarda streets, where we were once again barred by police troops from reaching the main road.


A brief stand-off..
..before the police commenced with their bludgeoning.

Paolo Alfonso, University of the Philippines University Student Council Chairperson, was bloodied after attempting to negotiate with the police.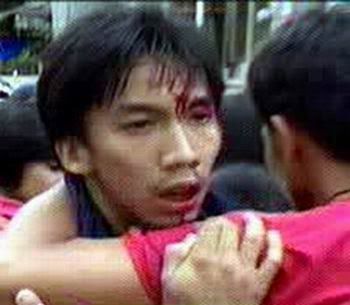 Polly Pulido of KARATULA (Youth Artists for Genuine Freedom) suffered major injuries as well.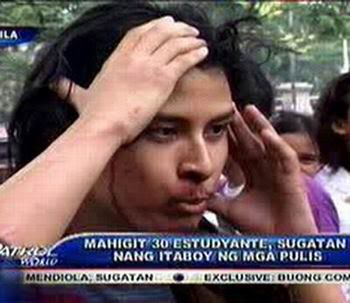 And even members of the media covering the event were not spared.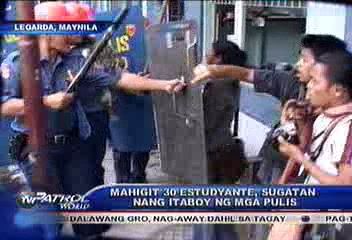 This reporter from The Washington Post witnessed the violence.


She asked, "Why are the police hitting the young people? That's not right."
To which we would have replied, "In this country, nothing runs right anymore."
(all photos and video stills courtesy of arkibong bayan and abs-cbn news)